We wanted g-dang cars.
That was the first and most important decision - this game needed cars. So we kicked off with Kenny's Vehicle Asset Pack. So cute!!
After we had played around with that for a while, we realized that decision would limit us to only two asset packs. Cars, and Platformer Art: Pixed Redux.
This self-inflicted problem may have been the only reason we found our "unlikely combination": Cars and Gardening.
In order to fit our new game idea, we needed to cheat on some. To stay in the spirit of the jam, we wanted to document and share what we edited:
Car ➜ Wheel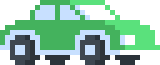 We needed a separate wheel, and this one only took a few extra pixels to make happen. Don't feel to guilty about this one.

Blue Gem ➜ Water / Oil Drops



This one had a vertical flip, colour change, and a shine to convey it's liquid-ness. It's a bit of a stretch, but I don't think we went too crazy :)